day 114 - berlin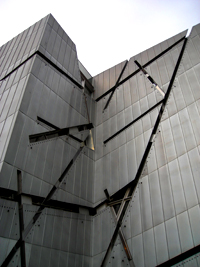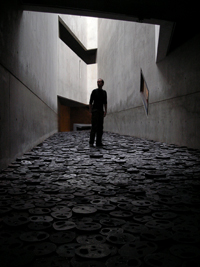 it's impossible to convey the power and brilliance of

daniel libeskind's

jewish museum

in berlin. the architecture has been created to evoke physical responses: narrow uneven corridors, voids without lighting or heating, sloping walls and spaces that can be seen but not accessed. it's one of the most astounding buildings I've ever visited. and I visit it every time I'm here.

last time I came however, there was an addition of an installation in one of

libeskind

's 'voids' - a space that runs the height of the building and has no lighting or heating. the installation is called fallen leaves and today I took some pictures...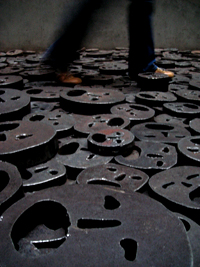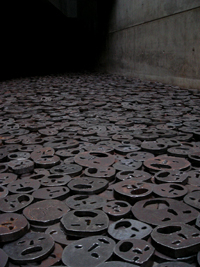 the work was created by

menashe kadishman

and is both a memorial to the holocaust, and also dedicated to all innocent victims of war.
the artist asks you to walk over the hundreds of faces made of sheet metal. but when you do, they echo and reverberate throughout the space and so once you are walking in the installation all you want to do is get out. but if you leave quickly there are ramifications: more noise and a difficult uneven surface. this work is eerie, and makes you quiet and reflect on the faces you are walking over. it's a profound experience, in a profoundly experiential building...





Labels: berlin, buildings, out of paris, scars