day 110 - berlin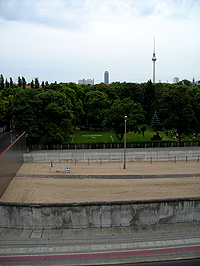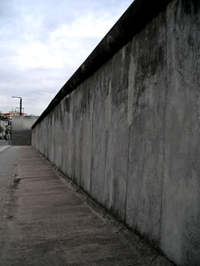 there is a 'wall memorial' on Bernauer Straße in

mitte

that has re-constructed a section of the wall, the death strip and its installations and barriers.

on the left you can see how the wall looked and behind it, you can see one of the many cemeteries that was decimated to make way for the death strip. the 'no man's land' photos I took on the first day come from this area. on the right you can see the renovated wall from the western side which would have been convered in graffiti...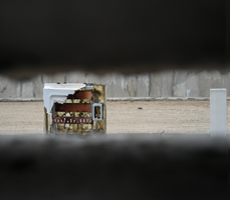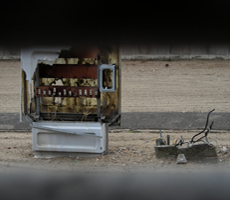 this is one of the electrical control boxes situated in the death strip. in the 4th incarnation of the wall (it kept getting improved) there were automatic weapons triggered by trip wires in addition to the numerous guards in the watch towers and flood lights...
the memorial information talks about this section of the wall: "

Bernauer Straße became especially symbolic of the inhumanity of the Berlin Wall: Because of the way the border was drawn in this area - the houses on the southern side of the street were in the Soviet sector, while the sidewalks in front of them belonged to the French sector - the Wall had an especially dramatic impact here. When the border troops started walling up the windows on the ground floor of these houses in August 1961, people attempted to escape to the western part of the city through the windows on the upper floors. Pictures of these escape attempts were seen around the world. Later the tenants living on this side of the street were evicted, and the houses were torn down in 1965. Only the ground floor façades remained; these were used as part of the border wall until 1979.

"
Labels: berlin, monuments, out of paris, scars, streets