day 140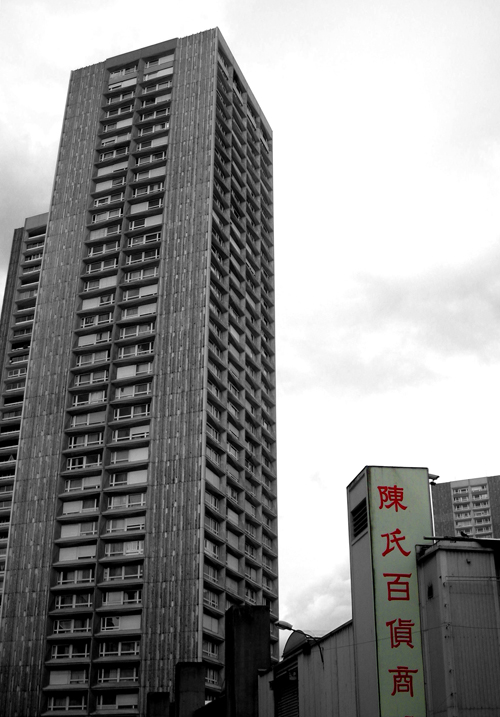 in honour of the olympic games I thought I'd try to capture one of the many
brilliant efforts of parisian urban planning
(remember
la défense?)
where the ideals exceed the reality (we might also add

bibliothèque
to this list but another day...).

in the 1960s this arrondissment, the 13th, was cleared to make way for a brilliant new urban plan that was to create a more livable paris with buildings that were tall, more luminous and separated heavy traffic from side streets. this project was called

italie 13

(taken from the arrondissment and the nearby

place d'Italie

).

and so the area was cleared, buildings were built and it was hoped that the young urban professionals would flock to this area to work, play and live a better life.

alas, (not surprisingly) no one wanted to leave their cosy, dirty and sexy inner parisian arrondissments and it became a ghost town. the project was stopped in the 1970s (without the parks that were also planned) and because it was ugly and unwanted it was also really cheap, so the massive influx of vietnamese refugees who needed somewhere to live ended up here. later, other asian immigrants joined the vietnamese and this is now the largest asian area in paris.

but what is left of

italie 13

? not many of the ideals can be clearly identified, but there are a series of phenomenally ugly buildings all named after cities who have hosted past olympics:

Anvers

,

Athènes

,

Cortina, Helsinki, Londres

,

Mexico, Sapporo

, and

Tokyo

. this housing project, and the surrounding quartier, is now colletively referred to as

les olympiades

.

this photo was taken next to

tower tokyo

and behind the peking-duck shop....















Labels: buildings